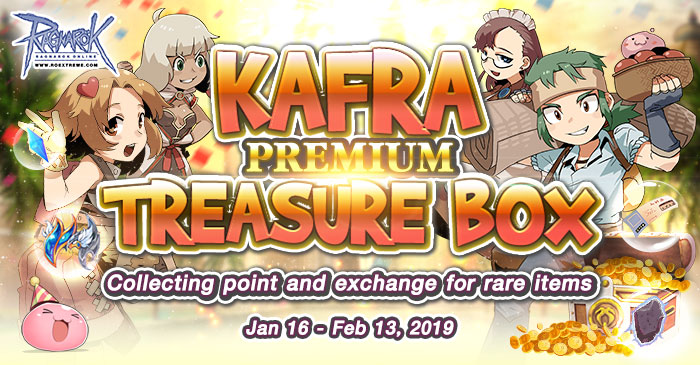 Collecting point and exchange for rare items in Kafra Premium Treasure Box Event. Starting now - February 13, 2019

Event page link ⬇
https://activities.ragnarokonline.com.ph/kafra-treasure-box-january-2019

Schedule
Start: January 16, 2019 (After server maintenance)
End: February 13, 2019 (Before server maintenance)

When event time end, you are unable to gain more point but you can use your point to exchange the reward until February 20, 2019 at 10.00 AM. (Before server maintenance)
Event Conditions
Top up to increase level and get item as level mentioned.
Every 100 ROK Points will increase 1 level.

When refilling to 50,000 ROK (Level 500), player cannot refill again. One time per account only.

All refilling channel can participate this event.

1 ID can refill and exchange item ONE time only.

Can refill for collecting point until the event time end.

When event time end, you are unable to gain more point but you can use your point to exchange the reward until February 20, 2019 at 10.00 AM. (Before server maintenance)

Reward for Ranking, use level instead of money.

Costume Lightning Speed can only be obtained from this promotion.

The company reserves the right to change terms and conditions at any time without prior notice.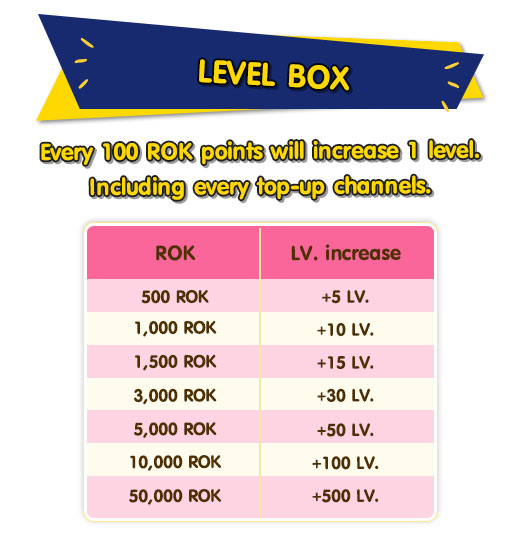 ​
Reward