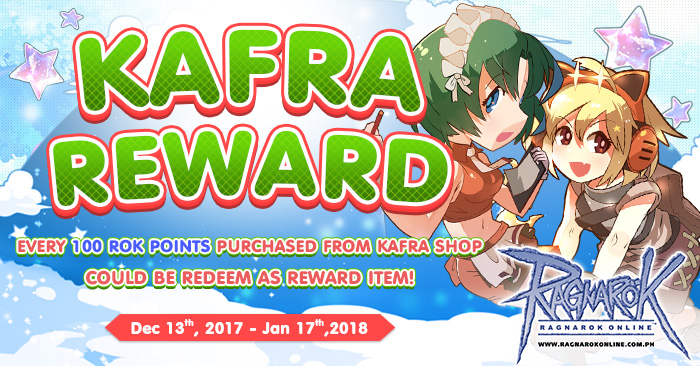 Every 100 ROK points purchased from "Kafra Shop" Could be redeem as Reward Item! Starting Now till January 17th, 2018

Redeem point ⬇
https://activities.ragnarokonline.com.ph/kafra-reward-december-2017

Promotion Details
Start : December 13th , 2017 (After the Maintenance)
End : January 17th , 2018 : 09.59 AM.
Once the promotional event period has ended you will no longer be able to accumulate coupons, but you are still able to redeem items within 7 days. ( till January 24th, 2018 09:59 AM )

Condition
Receive 1 Point for every 100 Kafra ROK used.

Can accumulate points during event period.
Points will be accumulated the following day upon the use of Kafra ROK Point

'Free Cash' will not be calculated in this promotion.

No limit in redeeming items.
Point will be immediately deducted upon use.

Once the promotional event period has ended you will no longer be able to accumulate coupons, but you are still able to redeem items within 7 days.
Reward Channel
Users able to get reward thru Website as soon as you complete the condition
Pick up your items in-game at the NPC names Cool Event Crop Employee at the city of Alberta (coordinates 147,60)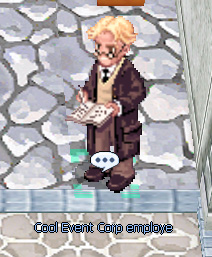 Reward

Receive 1 point for every 100 Kafra ROK Point used.