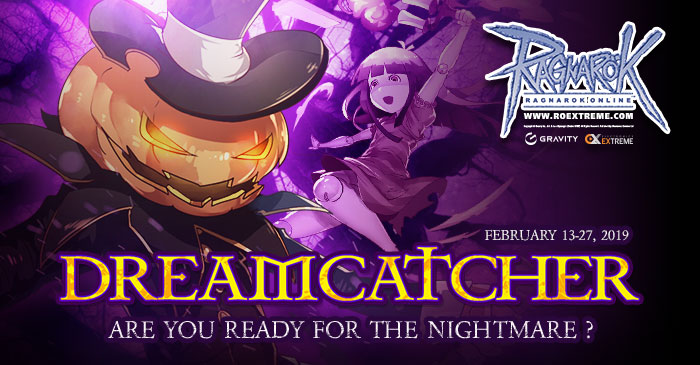 Peek-A-Boo where are you now, why are you hiding me?
Say Hi for all Midgard Adventure ! This week we have many challengers from Nowhere, but don't be scared since they are just making friends with you. The Challengers from Nowhere will give more experience at x150% and Drop rate increase at x120%. When hunting them, remember that they will stay beside you even if they are dead.

Event Schedule
Start : February 13, 2019 (After server maintenance)
End : February 27, 2019 (Before server maintenance)

Event Conditions
Stage on List : Nifflheim Field, Geffen Dungeon, Sunken Ship Dungeon.
Note :

MVP and Mini Boss are not included in this event.

Map List Table
| | | | | |
| --- | --- | --- | --- | --- |
| | Nifflheim Field | Geffen Dungeon | Sunken Ship Dungeon | |
| | nifflheim | gef_dun00 | treasure01 | |
| | nif_fild01 | gef_dun01 | treasure02 | |
| | nif_fild02 | gef_dun02 | | |

Monster

EXP

Job EXP

Item Drop Rate

Gibbet
6,016
2,736
x120%
Dullahan
6,755
4,444
x120%
Quve

621

459
x120%
Lude
588
370
x120%
Heirozoist
3,471
1,945
x120%
Disguise
4,222
2,878
x120%
Loli Ruri
9,961
6,471
x120%
Bloody Murderer
14,613
5,338
x120%
Poporing
121
66
x120%
Poison Spore
279
139
x120%
Dustiness
327
210
x120%
Familiar
42
22
x120%
Argos
582
282
x120%
Bathory
3,754
1,551
x120%
Jakk
2,112
1,320
x120%
Hunter Fly
2,275
1,428
x120%
Ghoul
1,632
933
x120%
Nightmare
2,868
2,868
x120%
Deviruchi
3,993
1,917
x120%
Marionette
1,617
1,914
x120%
Whisper
886
898
x120%
Hydra
88
66
x120%
Kukre
57
42
x120%
Pirate Skeleton
349
213
x120%
Mimic
247
247
x120%
Wanderer
8,679
7,095
x120%
Penomena
4,305
3,300
x120%